Demo ReadyTalk for ExactTarget
Improve your marketing demand generation programs, increase ROI, and save time with ReadyTalk's full-featured webinar solution that seamlessly integrates with ExactTarget. Get the best of both worlds when you leverage ExactTarget for event-related emails and registration and ReadyTalk for sharing content and interacting with your audience.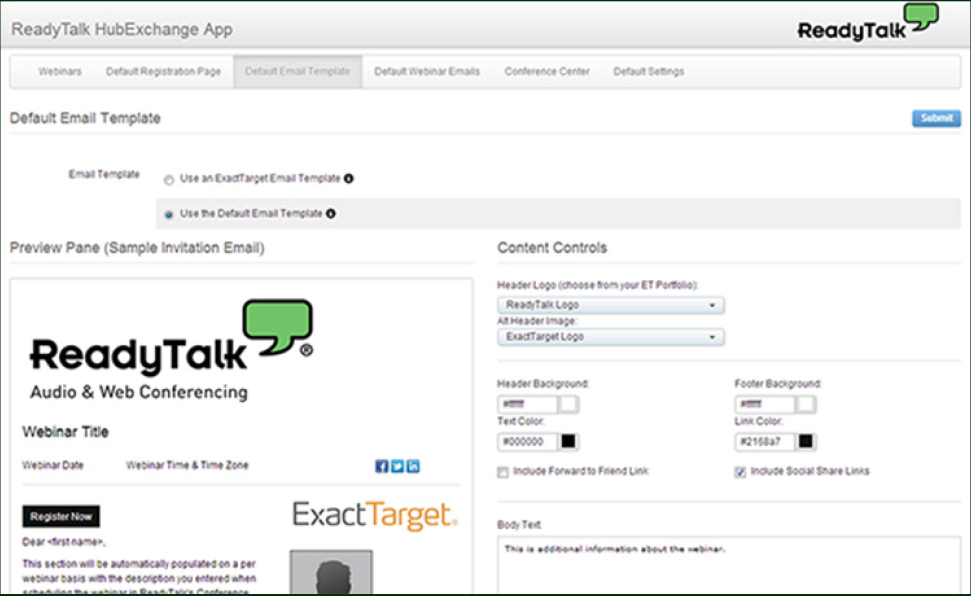 Create webinar-related emails and registration pages using your own
ExactTarget templates or out-of-the-box templates provided by ReadyTalk
Avoid manual processes by syncing registration data—once a prospect
completes the registration form, they will be automatically registered in
ReadyTalk and instantly receive a confirmation email from ExactTarget
Increase webinar attendance with built-in social sharing and
'Forward to a Friend' links
Speed post-event follow-up by automatically capturing attendance data and
webinar recording link in ExactTarget
Manage webinar activities and view key metrics in ExactTarget's Interactive Marketing Hub
Ready for a Demo?
Fill out the form to sign up for a demonstration of the integration and more information on how to get started.